Abstract
Congenital enterokinase deficiency is a rare autosomal recessive disorder of gastrointestinal tract in newborns. Enterokinase initiates digestion of protein by conversion of trypsinogen into trypsin. We analyzed the parents of unaffected deceased newborn with congenital enterokinase deficiency by exome sequencing. The results of exome sequencing identified a novel heterozygous frameshift deletion, c.151-155del p.Ala51Trpfs*5, in TMPRSS15 gene. Direct sequencing confirmed that the couple had heterozygous status. TMPRSS15 gene mutations are completely rare. To date, one small deletion and three nonsense mutations are reported in this gene in Human Gene Mutation Database (HGMD®). The identified mutation leads to complete absence of enzymatic activity.
1. Background
Enterokinase deficiency is a malabsorption disorder characterized by diarrhea and failure to thrive (1). This rare autosomal recessive condition is caused by homozygous or compound heterozygous mutations of TMPRSS15 (PRSS7*606635) gene (2). This gene encodes enterokinase enzyme, also known as enteropeptidase, which is a serine protease of the small intestine. It activates the pancreatic proenzyme trypsinogen, which, in turn, releases active digestive enzymes including chymotrypsin and carboxypeptidase from their inactive pancreatic precursors (3-6). Absence of enterokinase results in severe impairment of protein digestion. Up to now only 3 mutations, three nonsenses and one small deletion, in this gene are submitted in The HGMD. Here we reported an infant with a severe phenotype of this disorder. Three months old infant girl was admitted to the hospital by chief complain of lethargy, chronic diarrhea, failure to thrive, generalized edema and generalized skin lesions. Biochemical testing indicated anemia with hemoglobin 6.8 g/dL and hypoalbuminemia with albumin 2.1 g/dL. Abdominal sonography revealed increased echogenicity of the liver. The affected child passed away due to respiratory arrest before complete assessment. The parents are consanguineous with a negative family history of the described phenotype and have one healthy daughter.
2. Methods
2.1. Sample Preparation
Written informed consent was obtained from all participants involved in this study. Peripheral blood sampling was performed on the parents. DNA was extracted using the conventional salting-out method.
2.2. Whole Exome Sequencing
Since there was no clear diagnosis for the deceased newborn, Whole Exome Sequencing (WES) was considered. Furthermore, because of consanguineous marriage, only the mother was subjected to WES at Centogene Germany.
2.3. Bioinformatic Analysis
Approximately 37 Mb (214405 exons) of the Consensus Coding Sequences (CCS) were enriched from fragmented genomic DNA by > 340000 probes designed against the human genome (Nextera Rapid Capture Exome, Illumina) and the generated library sequenced on an HiSeq 4000 platform (Illumina) to an average coverage depth 70-100X. An end to end in house bioinformatics pipelines including base calling, primary filtering of low quality reads and probable artefacts, and annotation of variants was applied. All disease causing variants reported in HGMD®, in ClinVar or in CentoMD® (pathogenic) as well as all variants with minor allele frequency (MAF) of less than 1% in ExAc database were considered. Evaluation was focused on exons and intron boundaries ± 20 bp. All relevant inheritance patterns were considered, family history and clinical information were used to evaluate eventually identified variants.
2.4. Validation of Mutations and Segregation Analysis
To validate the causal mutation and mutation - disease segregation analysis in the pedigree, direct Sanger sequencing was performed in the couple. Primers were designed using GENERUNR v3.4.0.0 to surround the candidate mutation(s) and the amplified targets (forward and reverse) were sequenced by standard Sanger's sequencing technique using BigDye® Terminator (Invitrogen, ABI, Foster City, CA). Primer sequences are available upon request.
3. Results
Exome sequencing results identified a novel heterozygous frameshift deletion, c.151-155del p.Ala51Trpfs*5, in TMPRSS15 gene. This deletion creates a frame shift starting at codon Ala51. The new reading frame ends in a stop codon 4 positions downstream. Direct sequencing confirmed that the tested individual and her partner are heterozygous for this variant (Figure 1).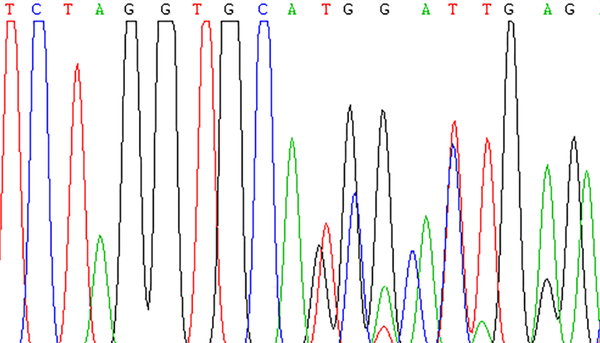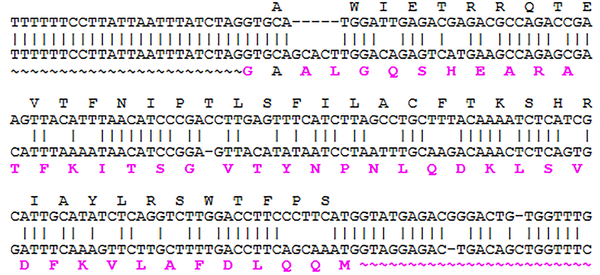 4. Discussion
By WES we identified a heterozygous frameshift deletion in exon 2 of TMPRSS15 gene, which creates a premature stop codon, degrades all functional domains of the protein and completely abolishes enzymatic activity of the protein product. Previously reported mutations in this gene are not located at very amino terminus of the protein and it can partly retain enzymatic function of the protein (2). Three reported nonsense mutations are located in exon 18 (c.2135C > G, rs77200626), exon 22 (c.2569C > T, rs121908059) and exon 8 (c.781C > T, rs121908060), resulting in premature stop codons at residues Ser712 within the MSCR domain, Arg857 within the serine protease domain and Gln261 within the C1r/s motif respectively. Reported deletion mutation (c.2707-2708delGT, rs780802518) in exon 23, results in a frameshift at residue Gln902 within the serine protease domain. However, in this case this deletion creates a frame shift starting at codon Ala51. The new reading frame ends in a stop codon 4 positions downstream at the start of SA domain of the protein therefore no enzymatic activity and a severe phenotype could be expected. Up to now only about 10 cases of this rare disorder have been reported that can be due to difficulty in diagnosis of deficiency of enterokinase enzyme in duodenum (1, 2, 4, 7-9). Rapid diagnosis and management of the patients with complete absence of enterokinase enzyme is vital for their survival.
Copyright © 2017, Journal of Human Genetics and Genomics. This is an open-access article distributed under the terms of the Creative Commons Attribution-NonCommercial 4.0 International License (http://creativecommons.org/licenses/by-nc/4.0/) which permits copy and redistribute the material just in noncommercial usages, provided the original work is properly cited