1. Introduction
COVID-19 is a viral infection that causes severe acute respiratory syndrome coronavirus-2 (SARS-CoV-2). In adults, severe respiratory symptoms are the most common clinical presentation (1). Although initial studies suggested that children will experience a mild illness during the acute infection (2), recent studies reported the emergence of a new SARS-CoV-2 infection-related phenomenon of a significant hyperinflammatory response in previously healthy asymptomatic children (3). This new phenomenon, termed "multisystem inflammatory syndrome in children (MISC)," has been reported in individuals younger than 19 years. MISC has different clinical presentations, including gastrointestinal problems, mild or absent respiratory symptoms, cardiac disease, rash, and conjunctivitis. Some patients also present features of myocarditis with cardiogenic shock and toxic shock syndrome. It is not clear whether MISC is a consequence of the Covid-19 or not (4). Concerning the viral pathogenicity, SARS-CoV-2 first gains entry into the host cells through its owns proteins. The clinical features of human coronavirus and adenovirus infections can even mimic Kawasaki disease (KD), the etiology of which has not been elucidated yet but has been suggested to be due to an infection (especially of viral origin) based on its acute onset, limited course, and wave-like spread as well as the age of affected patients. Additionally, adenovirus, coronavirus, and para-influenza virus type 3 may also be isolated from patients with KD as a co-infection. However, it is well-documented that the increased levels of acute-phase reactants, white blood cell, and neutrophil counts, induced by bacterial agents (e.g., superantigens), are involved in KD development (5-7). Some have suggested that the replication of respiratory viruses in the respiratory epithelium and the increase in the IgA-producing plasma cell response could explain the pathogenesis of KD. Interestingly, an increase in the host's IgA response has also been found in the first stage of SARS-COV-2 infection, suggesting a link between these two diseases. The hypothesis that molecular mimicry leads to immunological cross-reactivity, similar to that occurs in rheumatic fever, also worth considering.
These findings suggest a possible link between respiratory viruses, including earlier generations of coronaviruses, and those responsible for KD, and may concern whether SARS-COV-2 infection increases the risk of KD (8). Herein, our multidisciplinary approach to MISC is presented, and current knowledge on the case definition and clinical manifestations are discussed. Finally, a protocol for the diagnosis and treatment of this syndrome is proposed.
2. Arguments
2.1. Case Definition
Because MISC is not well defined, the current study aimed to consider a unique definition in this regard. Although according to the literature, this syndrome may strike at any time, it often occurs one to six weeks following the SARS-CoV-2 infection (9). MISC can present with cardiac manifestations, as in Kawasaki disease; however, the involvement of coronary arteries is rare.
MISC can occur with evidence of involvement or even multiple organ failure, including neurological involvement, hyperferritinemia, and cardiogenic or vasogenic shock. Primarily studies mentioned significant gastrointestinal complications, such as diarrhea, vomiting, and severe abdominal pain. MISC can be presented as Kawasaki like disease with complete, incomplete, or atypical manifestation, or can be first diagnosed by nonspecific presentations like shock or gastrointestinal, skin, respiratory, or neurological signs and symptoms.
2.2. Initial Interventions
For those who met the abovementioned criteria, early workup should be performed, and for those with Kawasaki-like disease, echocardiography should be provided. For all patients, the epidemiological link to SARS-COV-2 infection was evaluated, and preventive and treatment protocols were implemented. After 48 to 72 hours, patients should be evaluated again. It worth noting that those with fever were discharged.
2.3. Differential Diagnosis
1- Viral infections (enterovirus, adenovirus, Epstein-Barr virus, measles virus, cytomegalovirus), bacterial infections (Rocky Mountain spotted fever, scarlet fever, bacterial cervical lymphadenitis, leptospirosis, urinary tract infection, meningococcemia), rheumatic diseases (systemic-onset juvenile idiopathic arthritis, Behçet's disease, rheumatic fever), toxic shock syndrome, serum sickness, staphylococcal scalded skin syndrome, macrophage activation syndrome, drug hypersensitivity reactions, Stevens-Johnson syndrome, and aseptic meningitis (10).
2- KD in patients with fever for more than 5 days who met at least four of the following classical findings: conjunctivitis, changes in the limbs, exanthema, erythema of the oral mucosa and lips, and cervical lymphadenopathy as well as complete KD in those with 2 or 3 of the above clinical findings with at least 3 of these laboratory pieces of evidence, that is, white blood cell (WBC) count ≥ 15,000/µL, normochromic anemia due to age-mediated changes, normocytic, platelet count ≥ 450,000/µL after seven days of illness, non-neutrophilic (sterile) pyuria due to urethritis in KD, serum alanine aminotransferase > 50 units/L, Serum albumin ≤ 3 g/dLin addition to elevated acute-phase reactants (C-reactive protein (CRP) ≥ 3 mg/dL or erythrocyte sedimentation rate (ESR) ≥ 40 mm/hour) (11).
3- For children with gastrointestinal symptoms, information regarding their travel history to infected areas, presence in crowded places, and history of contact with a definite or suspected case of COVID-19 patient should be obtained; however, during pandemics, a clear history of contact may not be found.
4- Lymphocytopenia for different age groups: absolute lymphocyte count < 3000/mL in infants (1 - 12 months), < 2000/mL in children 1 - 5 years of age, and < 1100/mL in children > 5 years of age).
5- Crimean-Congo hemorrhagic fever (CCHF): As Iran is an endemic region for CCHF (12), it should be considered in every child with headache, high fever, back pain, vomiting, red eyes, diarrhea, and bleeding. Besides, petechiae (red spots) and history of contact with livestock or CCHF patients should be evaluated.
2.4. Further Evaluations
All of the above patients with persistent fever in addition to one of the following signs and symptoms should be further evaluated: 1- shock or hypotension; 2- heart failure or myocarditis; 3- acute gastroenteritis; 4- unexplained ascites; 5- hepatitis with or without jaundice; 6- splenomegaly; 7- skin rash (popular vesicular petechiae/purpura); 8- coagulopathies; 9- encephalitis (loss of consciousness, seizure, cranial involvements) PLUS at least one of the following findings: 1- cytopenia; or 2- pancytopenia (lymphopenia according to age, thrombocytopenia, neutropenia, or neutrophilia). In such patients, toxic shock syndrome, bacterial septic shock, and CCHF should be evaluated, in addition to KD, according to the clinical signs and symptoms.
2.5. Criteria for Multisystem Inflammatory Syndrome in Children
Concerning MIS-C evaluation, all of the following criteria should be met.
1- An individual of < 19 years of age; 2- All of the following clinical and laboratory features: (i) Fever of 38 degrees or more for at least 24 hours; (ii) Multisystem (≥ 2) organ involvement: cardiovascular (revealed by shock, increased troponin, increased B-type natriuretic peptide, abnormal echocardiography, arrhythmia), renal (acute kidney injury, renal failure), respiratory(pneumonia, adult respiratory distress syndrome, pulmonary embolism), hematological-like coagulopathy, gastrointestinal(diarrhea, ileus, gastrointestinal bleeding, increase liver enzyme), dermatological (erythroderma or other rashes, mucositis), or neurological (seizure, aseptic meningitis, stroke, decreased level of consciousness); (iii) Evidence of a clinically severe illness that requires hospitalization; (iii) Evidence of inflammation as revealed by at least one of the following criteria: increased CRP, D-dimer, ESR, ferritin, interleukin-6, procalcitonin, lactic acid dehydrogenase, fibrinogen, neutrophils, or decreased absolute lymphocyte or albumin count; 3- No alternative justifying diagnoses; 4- Positive RT-PCR, serology or antigen tests for current and recent infections or a history of exposure to an individual with suspected (e.g., recommended to isolate) or confirmation of COVID-19 diagnosis 4 weeks before the onset of symptoms. During pandemics, exposure can be considered even in those without clear contact history.
2.6. Specific Evaluations Suspected to Have MISC
For all patients, the following additional clinical and paraclinical evaluations should be performed: 1- Frequent monitoring of all abovementioned signs and symptoms and excluding the focal infection; 2- Stabilizing the hemodynamic status; 3- Obtaining the echocardiography, arterial blood gas measurements, electrocardiography, and sonography (if gastrointestinal signs and symptoms present); 4- Obtaining the cultures from sterile body fluids (e.g., blood, cerebrospinal fluid, ascites) or from wounds and the throat; 5- Conducting liver enzyme and function tests as well as checking the levels of electrolytes, Ca, Mg, acute-phase reactants, triglycerides, ferritin, fibrinogen, albumin, and troponin; and 6- conducting nasopharyngeal/oropharyngeal RT-PCRs for SARS-CoV-2.
All of the abovementioned laboratory tests should be repeated according to the patient's condition. Scoring for CCHF based on the national guidelines should be kept in mind.
2.7. Pharmacological Interventions
The severity assessment should be performed and accordingly, patients should be divided into mild, moderate, and severe groups. In the case of any suspicion of infection, appropriate empirical antibiotics should be initiated.
Mild: those with minimal organ injury (13), no or minimal respiratory support, and no vasoactive requirement. Those with mild or isolated organ damage, coronary involvement, progressive or significant oxygen requirement, and need for vasoactive therapy should be categorized as moderate. In severe cases, one may have moderate to severe organ damage, including ventricular dysfunction, non-invasive or invasive ventilatory support, and need for vasoactive therapy.
Intravenous Immunoglobulin (IVIG) and aspirin are recommended to all patients with Kawasaki-like disease. Additionally, IVIG and methylprednisolone should be considered in moderate and severe cases or those with a progressive pattern. It is noted that deep vein thrombosis should be prevented by administering low-molecular-weight heparin (Enoxaparin) to all PICU-admitted (pediatric intensive care unit) patients of >12 years old. (It should be considered in the moderate and severe groups, too)
2.8. Refractory Patients
In cases with no appropriate responses to the abovementioned interventions, intravenous immunoglobulin can be re-administered. Additionally, biological agents, such as infliximab, anakinra, and tocilizumab, may be considered on a patient-case basis (14). The proposed protocol is shown in Figure 1.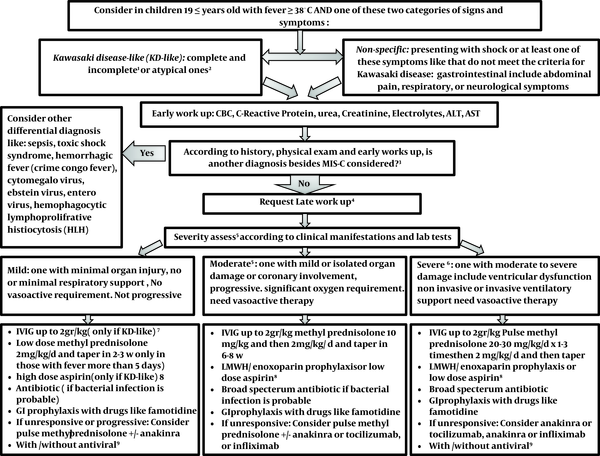 2.9. Recommendations
1- In the time of the COVID-19 pandemic, each child with two organ failures should be evaluated for MISC; 2- In the time of the COVID-19 pandemic, each child with Kawasaki-like disease should be evaluated for MISC; 3- If there is a suspicion of MISC along with hemodynamic instability or cardiac failure, the intensity of the disease will be more severe; hence, emergency interventions are necessary.
3. Conclusion
There are reports indicating that COVID-19 associated MISC can worsen rapidly. Therefore, the early implementation of a higher level of care (i.e., transferring to the PICU) is necessary. As discussed herein, a multidisciplinary approach with an expert group for those convention the disease classification is of crucial importance for achieving successful outcomes.
3.1. Discharge Criteria and Follow-Up
Children who are well and have a stable cardiac function and do not have pyrexia for 24 hours can be discharged from the hospital. Children with MISC should be followed up in 24 - 72 hours after discharge and have a further follow-up with echocardiography6 weeks after discharge. They should be visited in follow-up by a multidisciplinary team.
Strongly encourage a multidisciplinary team and protocol to uniformly screen, diagnose and treat MIS-C catered to institutional resources and expertise. Any suspected PIMS-TS child should be discussed and reviewed by a multidisciplinary team within 24 hours.
Multidisciplinary follow-up at discharge is essential to both understand and monitor disease progression.
References
Copyright © 2021, Author(s). This is an open-access article distributed under the terms of the Creative Commons Attribution-NonCommercial 4.0 International License (http://creativecommons.org/licenses/by-nc/4.0/) which permits copy and redistribute the material just in noncommercial usages, provided the original work is properly cited.