Abstract
Introduction:
Bone pain is common in children. The cause may be as benign as growing pains or as life threatening as a malignancy. When a cause cannot be established by patient history and physical examination, imaging of the affected body part is often carried out. However, it is not always easy to discriminate between benign and malignant lesions of the bones in children using imaging methods.
Case Presentation:
We report the case of a 4.5-year-old boy with acute onset bilateral hip and low back pain and inability to walk. Examination of passive movements showed that both hips were painful and restricted.
Conclusions:
Bone pain presenting as localized bilateral irritable hip could be considered as a diagnostic clue related to malignancies.
Keywords
1. Introduction
Bone pain in children is common. The cause may be as benign as growing pains or as life threatening as a malignancy (1, 2). Orthopedic manifestations of acute leukemia and solid tumors such as neuroblastoma can mimic septic arthritis, osteomyelitis, or transient synovitis. This can create considerable diagnostic difficulty, since both the clinical presentation and the associated abnormal findings on hematological and radiological investigation are not pathognomonic of leukemia. This may lead to a delay in the initiation of appropriate treatment or inappropriate intervention (3, 4). Pain syndromes related to hematological disorders may be due to heterogeneous mechanisms, mainly osteolysis, bone marrow (BM) infiltration, BM expansion, increased intraosseous pressure due to malignant infiltration and tumor growth, lowering of the receptor threshold by chemical mediators, and stretching of the periosteum (5). The painful disease-related states that are most common in malignancies are probably due to skeletal and BM involvement; sometimes, multiple pathologic processes may be present. In addition, the pathophysiology of pain may change over the course of the disease (4, 6).
2. Case Presentation
A 4.5-year-old boy presented with difficulty in weight bearing on both legs. He complained of low back pain, prolonged fever, and limping. These symptoms had lasted for a few weeks. On examination, passive movements of both hips were painful and restricted. The ultrasound of the hips was normal. Blood tests in the form of complete blood count and C-reactive protein (CRP) were normal. Blood tests were performed which showed a hemoglobin (Hb) level of 10.7 g/dL, white blood cell (WBC) count 4400, mean corpuscular volume (MCV) 85.3 fL, platelets: 117000/L, CRP 20 mg/L, Lactate Dehydrogenase (LDH) 540 IU/L, and erythrocyte sedimentation rate (ESR) 54 mm/hr. The patient had a mildly abnormal CBC with age discorrelation. MCV was increased and nonspecific lymphocyte dominance appeared in serial CBC that could be compatible with blood dyscrasia, but despite his underlying disorder, the patient's main complaint was skeletal problems with an unusual pattern. For this reason, we defined the primary presentation and final diagnosis and discussed the relationship between bone pain, bilateral irritable hip, and hematological or solid malignancies. Ultrasound of the abdomen and pelvis were normal. Magnetic resonance imaging (MRI) of the spine was normal, but MRI of the hip bones revealed an increased signal in the bilateral femur necks and a diffuse increased signal in the pubic bones and superior part of iliac wing. This suggested the possibility of an infiltrative process. Bilateral BM aspiration and biopsy was carried out; the sample was stained via routine staining methods and showed "hypercellular fibrotic marrow totally replaced by highly atypical mononuclear cells with smooth chromatin and indistinct cell border at hematoxylin and eosin stained preparation. The reticulin-stained slide showed coarse fibrosis. Sudan Black-B was negative in neoplastic cells. Flow cytometry was carried out and the results were compatible with the diagnosis of precursor B-cell acute lymphoblastic leukemia (ALL) with aberrant expression of CD13 (Table 1 and Figure 1).
Table 1.
The Patient's Flow Cytometry Markers
| Marker | Percentage |
| --- | --- |
| Blast Gate | 18.3 |
| Immunoglobulin G1 (IgG1) fluorescein isothiocyanate (FITC) | NA |
| IgG1 PE (Phycoerythrin) | NA |
| CD45 + (Cluster of Differentiation) | 93.6 |
| CD5 -/CD20 + | 8.4 |
| CD5 +/CD20 + | 1.3 |
| CD5 -/CD20 - | 86 |
| CD5 +/CD20 - | 4.3 |
| CD10 -/CD19 + | NA |
| CD10 + | 94.7 |
| CD19 + | 93.9 |
| HLA-DR -/CD3 + | 3.8 |
| HLA–DR +/CD3 + | 6.7 |
| HLA–DR -/CD3 - | 11.4 |
| HLA–DR +/CD3 - | 78 |
| CD13 + | 54 |
| CD14 + | 15 |
| CD33 + | 14 |
| CD34 + | 5 |
| CD117 + | 2.4 |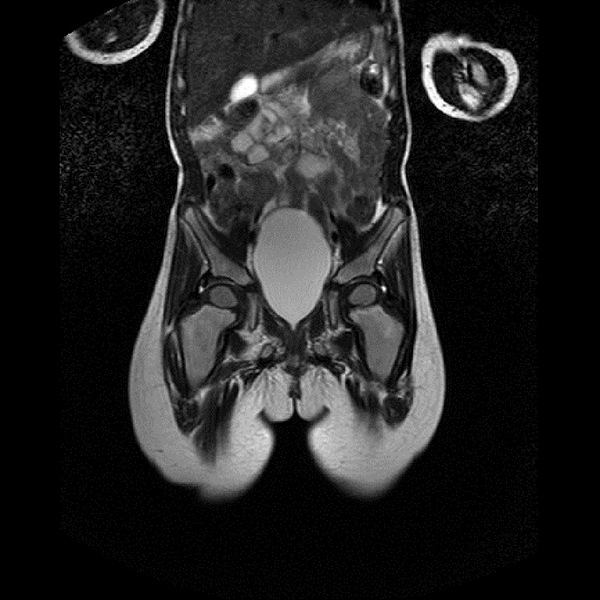 Immunohistochemical study was carried out simultaneously with flow cytometry and revealed strong positivity for CD10, CD19, CD79a, TdT (terminal deoxynucleotide transferase), and PAX-5 (Paired Box 5), scattered positivity for CD15, CD11c, CD68, and myeloperoxidase, and negative staining for CD117, CD14, CD34, and CD61. Karyotype study on BM aspiration material was performed and revealed 57, XY +4, +5, +6, +7, +8, +13, +14, +18, +19, +21, and +22 (Figure 2).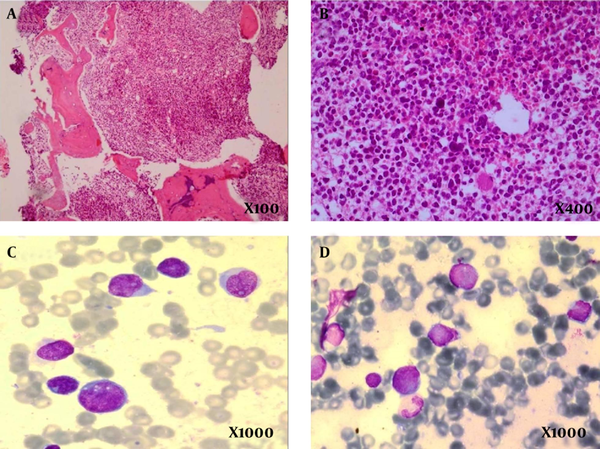 3. Discussion
In 2001, Chell et al. reported on a 10-year-old male who presented with new onset bilateral hip pain with fever and bicytopenia. A bone scan was performed that showed an area of increased uptake. BM biopsy confirmed acute myeloid leukemia (AML) (3). In 2002, Athale et al. reported on five patients with childhood acute megakaryoblastic leukemia (AMKL) that presented with unusual skeletal lesions. These included bilaterally symmetrical periostitis and osteolytic lesions (7). Our patient had pancytopenia and his BM biopsy confirmed ALL. In systemic disorders, anemia of chronic disease usually presents with normochromic normocytic or microcytic anemia, but our patient had an age-adjusted macrocytic anemia which raised our suspicion concerning BM involvement. A special pattern of bone pain similar to bilateral hip pain as a primary presentation of malignancy has rarely been reported, particularly in children. Cytopenia reinforces bone pain as a malignancy diagnosis. In 2002, Vaishampayan et al. reported on a 30-year-old man with secondary malignancy following mediastinal germ cell nonseminoma treated with chemotherapy, who developed bilateral hip pain and daily high fevers. MRI of the pelvis revealed a hyperintense marrow signal in the right mid–femur neck. A femur biopsy revealed multifocal infiltration by bizarre giant cells with hyperchromatic lobulated nuclei suggestive of malignant histiocytosis or acute megakaryocytic leukemia (M7) (8). Our patient also had an increased signal in the bilateral femur neck and diffused increased signal in the pubic bone bilaterally and the superior part of the iliac wing. In 1973, Newman et al. reported on four patients with ALL where severe back pain and associated X-ray evidence of vertebral compression and collapse, together with marked spinal osteoporosis, were the most striking initial findings (9). In addition, in 2005, Kobayashi et al. retrospectively reviewed 16 patients who presented to hospitals with orthopedic complaints. Four of these patients had back pain. On radiographic examination, osteopenia was observed in 10 patients, osteolytic lesions in 5, and pathologic fractures in 5 patients. Our patient had back pain without vertebral compression, collapse, marked spinal osteoporosis, or osteolytic lesions (10). Mohan and Gossain reported on 20 children with neuroblastoma who were studied over an 8-year period and initially presented with an orthopedic symptom, such as hip pain, a nonspecific limp, and limb weakness or back pain. The largest group involved the hip and was often misdiagnosed as having suppurative arthritis (11). Bone pain as a persistent or severe impairment of patient activity is often associated with serious problems such as malignancies. This is most frequently the case if bone pain presents as a localized pain. Localized hip pain as an initial malignancy presentation in childhood has rarely been reported. New onset bilateral irritable hip in children without obvious symptoms of septic arthritis of the hip, as well as an association with cytopenia with acute onset bilateral irritable hip in children is a red flag in childhood bone pain. In summary, because the initial presentations of patients with malignancies sometimes involve the musculoskeletal system, physicians need to recognize the symptoms of this disease to avoid misdiagnosis and to expedite the initiation of appropriate, potentially lifesaving treatment.
Copyright © 2016, Pediartric Infections Research Center. This is an open-access article distributed under the terms of the Creative Commons Attribution-NonCommercial 4.0 International License (http://creativecommons.org/licenses/by-nc/4.0/) which permits copy and redistribute the material just in noncommercial usages, provided the original work is properly cited.