Abstract
Context:
Exosomes are nano-extracellular vesicles that carry biological molecules, including DNA, RNAs, and proteins, throughout the body. They can modulate intercellular communications and play key roles in signaling pathways and physiological responses. In the current review, we focused on exosomal miRNAs' roles in cancer development.
Evidence Acquisition:
This research was garnered from a large number of reports published in PubMed, ScienceDirect, Springer, Islamic Science Citation, and Magiran databases from 2000 to 2021. The keywords used were exosome, cancer, and microRNA.
Results:
The roles of exosomes in disease development and cancer have been investigated in several studies. It is revealed that exosome components such as microRNAs contribute to cancer-related processes, including cancer cell proliferation, metastasis, and angiogenesis.
Conclusions:
The findings showed that we could propose exosomes as cancer therapeutic targets and diagnostic biomarkers.
1. Context
In 1987, the term exosome was used for the first time as small nanovesicles (about 30 - 100 nm) containing unwanted proteins in the time of converting reticulocytes to mature erythrocytes (1-3). It has been proved that exosomes play significant roles and could originate from various kinds of cells such as dendritic cells, stem cells, and endothelial cells (2, 3). These small vesicles can carry DNA, RNAs, proteins, and lipids throughout body fluids and are involved in physiological and pathological conditions (4, 5) through their contents, such as microRNAs (MiRNAs).
MiRNAs are non-coding RNAs that can control approximately 30-60% of all protein-coding genes through post-transcriptional mechanisms. MiRNAs usually bind to the 3′UTR of their target mRNAs and lead to the suppression of translation or RNA degradation (2, 3, 6).
In this study, we reviewed recent reports on the prominence of exosomal–miRNAs (exomiRs) in the diagnosis and treatment of cancers.
2. Evidence Acquisition
This research was conducted using a large number of reports published in PubMed, ScienceDirect, Springer, Islamic Science Citation, and Magiran databases from 2000 to 2021. The keywords used included "exosome", "cancer", and "microRNA". Figure 1 displays the number of references used in each section.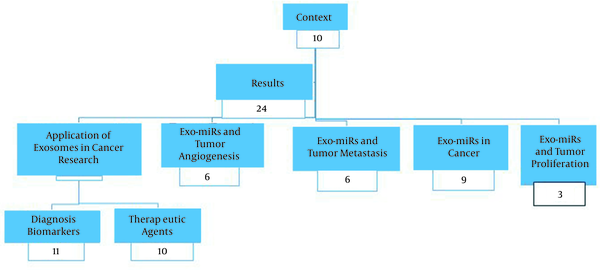 3. Results
3.1. ExomiRs in Cancer
ExomiRs are miRNAs are selectively packaged, secreted, and transferred within exosomes. Exosomes and their contents can modulate the connection between cancer cells and their neighboring cells that results in cancer progression, metastasis, angiogenesis, and chemoresistance (Figure 2) (7-11). Fabbri et al. reported that exo-miR-21 and exo-miR-29 can upturn cancer cell proliferation and metastasis through binding to immune cell toll-like receptors (TRLs) and activate the TRL-mediated NF-KB signaling pathway (12). Moreover, it was revealed that exo-miR-21 can target PDCD4 and activate its downstream c-Jun N-terminal kinase (JNK) signaling pathway, which enhance the invasion and migration of cancerous esophageal cells (13). Exo-miR-21 can also promote vascular endothelial growth factor (VEGF) through a STAT3-dependent mechanism (14).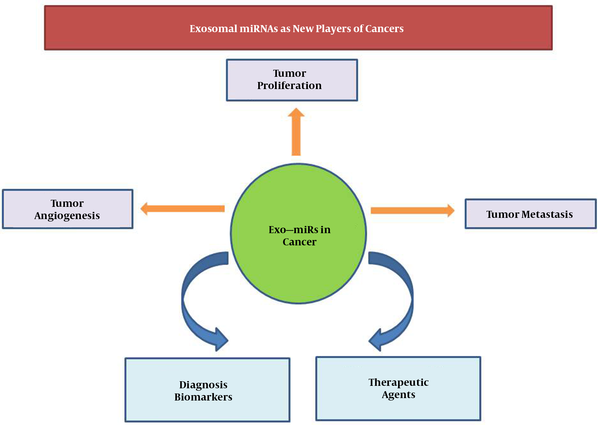 Furthermore, it is revealed that exo-miR-122 can boost metastasis by reprogramming the metabolism pathway of glucose in the pre-metastatic niche. On the other hand, it is indicated that the inhibition of miR-122 leads to the restoration of glucose uptake and repressing metastasis (15).
3.2. ExomiRs and Tumor Proliferation
Alteration in the expression and/or activity of proteins involved in the cell cycle and apoptosis cause tumor proliferation. Exosome contents could create these alternations. For instance, gastric cancer mesenchymal stem cells (GCMSC) derived exosomes deliver miR-221, which could develop cancer. Exo-miR-21 originates from macrophages, sticks to BGC-823, and reduces apoptosis (16). Exo-miR-584, derived from hepatocellular carcinoma cells (HCC), can downregulate TGF-B activated kinase-1 (TAK1), a critical hepatocarcinogenesis inhibitor via the suppression of the telomerase reverse transcriptase gene. Therefore, miR-584 can indirectly promote tumor proliferation (17). Exo-miR-1246 from 2-Gy-irradiated BEP2D cells can also damage DNA by suppressing DNA ligase 4 (LIG4) and inhibit non-irradiated cell proliferation (18). Some of the other exomiRs correlating with tumor proliferation are presented in Table 1.
Table 1.
Exosomal miRNAs and Their Roles in Tumor Proliferation
| Exo–miR | Target Gene(s) | Function | References |
| --- | --- | --- | --- |
| MiR-30a | WNT2/FZD2 | MiR-30a-3p/5p down-regulation can active Wnt signaling pathway in esophageal squamous cell carcinoma (ESCC) | (19) |
| MiR-122-5p and MiR-193b-3p | | Closely related to pancreatic cancer via p53 and TGF-beta signaling pathways | (1) |
| MiR-124/-145 | SCP-1/Sox2 | Decreasing self-renewal of glioma stem cells | (20) |
| MiR-127-3p | Bcl-associated athanogene 5(BAG5) | Suppression of BAG5 and BAG5 upregulation improve the tumor-suppressive effects of miR-127-3P | (21) |
| MiR-202-3p | c-FosATM | Enhancing the proliferation of tumor cells | (22) |
3.3. ExomiRs and Tumor Angiogenesis
Tumor angiogenesis consists of multiple steps: the first step commences when the vessel's basement membrane is degraded. Next, endothelial cells are proliferated, migrated, sprouted, branched, and formatted tubes (23). MiR-210 and miR-21 are two types of exomiRs that induce angiogenesis. MiR-210 activates EphrinA3 in stromal cells and promotes angiogenesis. Exo-miR-21 is also secreted from bronchial epithelial cells and activates STAT3 (24). STAT3 regulates the expression of basic fibroblast growth factor (bFGF) and several matrix metalloproteinase family members such as MMP-2 and MMP-9, which are involved in angiogenesis (25, 26). The up-regulation of active STAT3 in transgenic mice can enhance the expression of VE-cadherin, which is critical for VEGF function. In conclusion, STAT3 can up-regulate VE-cadherin during angiogenesis and conserve the stability of the vessel wall (27, 28).
3.4. ExomiRs and Tumor Metastasis
Metastasis is the manipulation of the cellular microenvironment for optimizing conditions for the local and distant deposition and growth of tumor cells (29). Exosomes can affect endothelial proliferation, permeabilization, angiogenesis, and different steps of the metastatic cascade (30). For instance, miR-21 activates PDCD4 in BGC-823 cells and promotes migration in gastric cancer (31). PDCD4 as a tumor suppressor gene inhibits tumor cell growth, apoptosis, invasion, and metastasis. PDCD4 protein attaches to the translation initiation factor eIF4A and modulates the function of the binding partners (32). Zhou et al. reported that miR-105 can target Zo-1 protein in endothelial cells, destroys tight junction and leads to metastasis in breast cancer (33). Another study indicated that following hepatoma cell damage treated by apoptotic agent, the expression level of exo-miR-122-5P and cell mobility are promoted through SDC1 downregulation (33). Some of these exomiRs are presented in Table 2.
Table 2.
Exo-miRs and Their Roles in Tumor Metastasis
| Exo–miRs | Target Gene(s) | Function | References |
| --- | --- | --- | --- |
| MiR-92a | Integrin α5 | Enhancing endothelial cell migration and tube formation | (34) |
| MiR-124/-145 | SCP-1/Sox2 | Decreasing the migration and self-renewal of glioma cells | (35) |
| MiR-222 | P27kip1 | Activating the PI3K/AKT | (36) |
| MiR-24-3p, 891a and 106a-5p | MARK1 | Alternation of T-cell proliferation and differentiation | (37) |
3.5. Application of Exosomes in Cancer Research
3.5.1. Diagnosis Biomarkers
There are various kinds of biomarkers for cancer diagnosis. Since tissue biomarkers need invasive procedures, researchers have tried to find novel alternative fluid biomarkers. Some of these biomarkers, such as proteins and nucleic acids, have low stability in the body fluids (31). Therefore, they are not as effective as diagnostic biomarkers. Exosomes as novel biomarkers have high stability, and due to carrying a wide range of macromolecules, provide lots of information about the tumor. Furthermore, exosomes can protect their content from nuclease and protease activity (11, 38).
Various studies have investigated the application of exomiRs in cancer diagnosis. For example, miR 19b 3p and miR 106a 5 are considered biomarkers for the diagnosis of gastric cancer (16, 39). Moreover, high levels of exo-miR 18a, miR 221, miR 222, and miR 224 in HCC patients can be used for diagnosis (10). Huang et al. also demonstrated that miR-375 and miR-1290 upregulation was associated with poor overall survival in patients with castration-resistant prostate cancer and can be used as prognostic biomarkers. Moreover, a significant association was reported between exo-miR-21 and overall survival in ovarian cancer. Hence, this exomiR can be used as a prognostic biomarker among ovarian cancer patients (40). In 2015, Pfeffer et al. demonstrated that miR-17, miR-19a, miR-21, miR-126, and miR-149 are up-regulated in the plasma-derived exosomes of metastatic melanoma patients (41). In addition, it was reported that exo-miR-181b-5p, miR-361b-5p, miR-10b-5p, and miR-320b could be used to distinguish NSCLC patients from non-NSCLC individuals (42). Also, the expression levels of exosomal miR-21 and miR-1246 were increased in patients with esophageal squamous cell carcinoma (ESCC) compared with healthy individuals (43). An interesting study indicated that exosomal miR-21 level in the cerebrospinal fluid (CSF) of glioma patients was significantly higher than healthy controls, and it could serve as a distinguishing parameter (23).
3.5.2. Therapeutic Agents
In recent decades, exosomes have been used for the development of new therapeutic techniques such as transferring anticancer drugs or RNAs (siRNA and miRNA). Biocompatibility, non-cytotoxicity, low immunogenicity, simple manipulating, easy storage, and long life span are listed as the advantages of exosomes. They are also nano-scale vesicles that can escape from lung clearance and pass through the blood-brain barrier. The roles of exosomes as therapeutic agents have been investigated by numerous researchers (44-48). For example, Akao et al. used an exosome-mediated RNA molecule delivery system to deliver miR-143BDs in xenografted nude mice (49). Alvarez-Erviti et al. showed that Lamp2b, an exosomal membrane protein, binds to a neuron-penetrating RVG peptide in dendritic cells isolated from mice. These exosomes were loading with exogenous siRNA to GAPDH by electroporation (50).
On the other hand, exosomes are involved in immunomodulation and cancer cell resistance to chemotherapy agents (45). For instance, the enrichment of exosomal miR-1246 in colon cancer cells induced the reprogramming of macrophages into a tumor microenvironment (51). Moreover, exosomal miR-34a elevated the docetaxel sensitivity of prostate cancer cells by regulating Bcl-2 (52). Also, the expression of exosomal miR-146a-5p was reduced in NSCLC cells during the process of cisplatin drug resistance (53).
4. Conclusions
Exosomes play critical roles in signal transduction between tumor cells and their environment. Exosomal miRNAs are nominated as a novel class of cancer mediators. Emerging evidence has proved that these non-coding RNAs can affect tumor progression and metastasis. Hence, the availability of exomiRs in different biofluids may candidate them as promising cancer biomarkers. On the other hand, based on the roles of miRNAs in cancer-related processes, there are different approaches to using miRNAs as therapeutic agents.
Copyright © 2021, Gene, Cell and Tissue. This is an open-access article distributed under the terms of the Creative Commons Attribution-NonCommercial 4.0 International License (http://creativecommons.org/licenses/by-nc/4.0/) which permits copy and redistribute the material just in noncommercial usages, provided the original work is properly cited.