Abstract
Introduction:
Crohn's disease (CD) is an inflammatory disease with an increasing incidence and can involve any part of the gastrointestinal tract. Most cases are seen in young adults presenting with abdominal pain and diarrhea. This condition may lead to complications such as stricture and fistula. Besides, there is an increased risk of colorectal cancer and some extraintestinal cancers in these patients, due to chronic inflammation. One of the therapeutic options for Crohn's patients is the use of immunomodulators. Such agents can induce remission and limit the usage of steroids. According to some literature, this treatment can increase the risk of colorectal cancer as well as extraintestinal cancers, of which skin cancers and lymphoma are the most prevalent. Lymphoma can be a result of chronic inflammation or use of immunomodulators such as azathioprine and 6-mercaptopurine (6-MP).
Case Presentation:
In this literature, we describe a young man with rectorrhagia who is diagnosed with Crohn's disease and a coexistence of lymphoma at the time of diagnosis, without a history of immunomodulator therapy.
Conclusions:
With attention to the increased risk of colorectal and extraintestinal cancer in Crohn's patients, assessment for early diagnosis should be considered
1. Introduction
Crohn's disease (CD) is an inflammatory bowel disease (IBD), which is characterized by inflammation and ulceration in all parts of the gastrointestinal tract (1-3).
Patients usually present with episodic abdominal pain and diarrhea, which may be bloody, and in cases of severe disease, surgery is required (4).
Due to chronic inflammation, many complications may occur in Crohn's disease, such as abdominal and pelvic abscess, stricture, and fistula.
Crohn's patients have an increased risk of developing malignancies including colorectal cancer and extraintestinal malignancies such as lymphoma (4-6).
Inflammation, itself, can be a risk factor for cancer; so, patients with a longer duration of disease have a greater risk for developing malignancies.
Besides, the coexistence of primary sclerosing cholangitis (PSC) can increase the risk of cancer.
Other risk factors for developing cancer include the use of therapeutic agents such as immunomodulators. Many studies demonstrate an increased risk of malignancies, especially melanoma and non-melanoma skin cancers and lymphoma, in Crohn's patients using immunomodulator agents (4, 6).
In this article, we report the case of a young man with Crohn's disease who presented with Hodgkin lymphoma at the time of diagnosis and had no history of immunosuppressor or other IBD treatments.
2. Case Presentation
A 22-year-old man with a nonproductive cough and rectorrhagia was admitted to the Qom Beheshti hospital. He complained of a nonproductive cough since 1 month, which exacerbated at night and awakened him. He had functional dyspnea (as FC 4), chest pain which did not radiate to the arms or back, and neck pain which exacerbated by moving his head to the right and left. He also complained of rectorrhagia since 2 months, which had no correlation with defecation. In the course of admission, he presented with a swelling in the neck, fever, and night sweating. Physical examination detected multiple fixed and non-tender lymph nodes with a maximum size of 10 × 20 mm in the right axillary and the right anterior cervical chain. After 10 days, the WBC level increased from 5400 per dL to 13500 per dL. Other remarkable findings in the lab studies revealed a hypochromic microcytic anemia (Hb: 8 mg/dL), thrombocytosis (plt: 587000), CRP + (67), and a rise in ESR. ASCA and p-ANCA were also positive. Serologic tests for CMV and EBV were negative. Sonography of cervical and axillary soft tissue identified multiple hypoechoic nodules with a maximum diameter of 21 × 80 mm in the right anterior cervical triangle and right axillary area, which were suggestive of reactive lymph nodes. On a chest X-ray, a unilateral left side infiltration was noted. A chest HRCT scan revealed left parahillar lymphadenopathy and interlobular septal thickening in the LUL and lingual. Bronchoscopy was performed and both biopsy and BAL were negative for malignancies, TB, and fungal infections. Mucosal erythema and aphthous ulcers with skip lesions were observed by colonoscopy. Colonic biopsy showed crypt distortion, cryptitis, and crypt abscesses. Findings of the investigations were consistent with signs of inflammatory bowel disease, possibly that of Crohn's disease with mild focal dysplastic changes. Ziehl-Neelsen staining and colonic tissue PCR were negative for TB. Excisional biopsy of the cervical lymph nodes was performed and pathology revealed nodular sclerosis Hodgkin's lymphoma. Lymphadenopathy was not seen on the abdominopelvic CT scan, both with and without IV and oral contrastFigure 1.

Figure 2.Figure 3.Figure 4..
3. Discussion
Inflammatory bowel disease (IBD), including Crohn's disease, is usually treated with a group of drugs such as 5-ASA agents, glucocorticoids, biologic therapies such as anti-TNF therapies, and immunomodulators like azathioprine and 6-mercaptopurine (6-MP) (7).
As mentioned before, Crohn's patients have an increased risk for malignancies. Risk factors for developing cancer include long-term and extensive disease, colonic strictures, PSC, and a family history for cancer.
According to some literature, immunomodulator agents may increase the risk of malignant lymphoma in Crohn's patients (7-9).
Recent studies demonstrate that treatment with thiopurines, with or without anti-TNF agents, increases the risk of non-Hodgkin lymphoma in Crohn's disease (10-14).
It has also been reported that immunoregulatory treatment in IBD or other conditions like rheumatoid arthritis increases the incidence of hepatosplenic T-cell lymphoma (15).
In the case reported above, lymphoma was diagnosed early in the course of the disease before any immunomodulator therapy was initiated; this seems to be a rare occurrence. It is important for clinicians to keep in mind that malignancies, also rare types, can occur early in the course of IBD and assessment in these patients can be helpful for early diagnosis.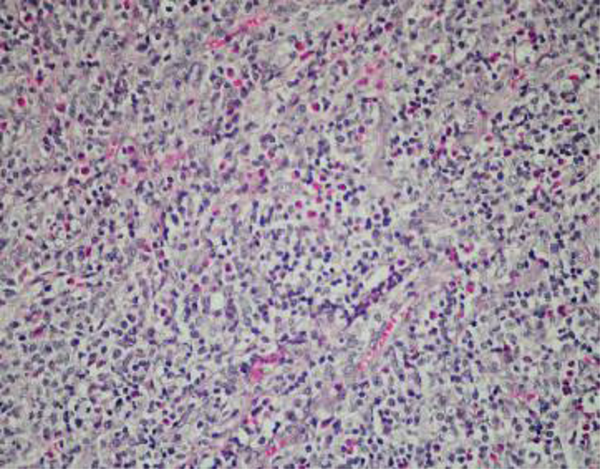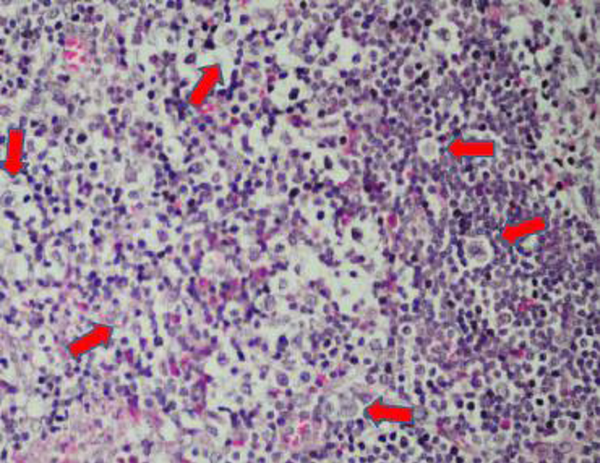 Copyright © 2017, Ahvaz Jundishapur University of Medical Sciences. This is an open-access article distributed under the terms of the Creative Commons Attribution-NonCommercial 4.0 International License (http://creativecommons.org/licenses/by-nc/4.0/) which permits copy and redistribute the material just in noncommercial usages, provided the original work is properly cited.