Abstract
Neuromyelitis Optica (NMO) is a rare disease of the central nervous system that causes optic nerve and spinal cord involvement. The our patient first developed acute paraplegia that was treated with intravenous methylprednisolone with diagnosis of acute thoracic myelitis according to magnetic resonance imaging (MRI) finding , concurrently with tapering of oral prednisolone, again affected by quadriplegia and respiratory failure. She was seropositivity for NMO-IgG that was negative in first admission and MRI of spine shows hyperintense lesion in whole cervical and upper thoracic MRI. With considering the findings, NMO was diagnosed and the plasmapheresis starts for her. We report a case of this syndrome because it can increase the physician's awareness of the unusual manifestations of this syndrome.
1. Introduction
NMO, also called Devic disease, is an uncommon form of inflammatory demyelinating diseases of the central nervous system (CNS) that cause optic neuritis and transverse myelitis [1]. In other words, it is an autoimmune inflammatory disease of the CNS in which NMO-IgG binds to the aquaporin-4 (AQP4) water channel. it is may be confused with multiple sclerosis but it has distinctive clinical and pathological features, mainly it causes necrosis of the spinal cord and affecting white matter and gray matter of the brain and spinal cord and usually with an absence of OCB in cerebrospinal fluid (CSF) [2-4]. Anti-aquaporin 4 antibody (NMO IgG AB) is the useful test that is highly specific and sensitive. The treatment for this disease involves acute management of acute attacks with intravenous (IV) methylprednisolone and plasma exchange, and prevention of future attacks with immunosuppressants including mycophenolate mofetil, azathioprine and rituximab [5, 6]. We report a severe seropositive NMO in old Iranian woman with recurrent severe myelitis and respiratory failure.
2. Case Presentation
A 73-year-old lady who was referred to our hospital with 7 days history of lower limbs weakness, gait disturbance and urinary retention that progress to paraplegia during 2 days. She had no history of medical problems, doesn't take any medication and her family history, social history, and review of systems were negative. On physical examination she was conscious and had stable vital signs, he had no neck vein engorgement, no carotid bruit. Chest examination was normal. She had, normal rate and regular rhythm, no murmur and without respiratory distress. Abdomen was soft, non-tender, without hepatosplenomegaly. In the extremities the pulses were good and symmetric. The neurological examination showed paraplegia with hypotonia, hyporeflexia and bilateral extensor plantar response with T6 level. Basic blood test shows hyperglycemia. B12 level was normal. HIV, HTLV1 and both vasculitis and malignancy workup were negative. NMO antibody was positive. Brain and whole spine MRI show hyperintensity in periventricular, juxtacortical area with a hyperintense longitudinal lesion in T2 weighted sequences of the thoracic spinal cord. Cerebrospinal fluid (CSF) was normal in cell count, protein and glucose. Viral polymerase chain reaction (PCR) and Oligoclonal bands (OCB) were negative. The patient was treated with a 5 -day course of intravenous methylprednisolone (1gr daily) with diagnosis of NMO that achieved mild improvement. She was discharged on oral prednisolone and folic acid and mineral. Concurrently with the tapering of prednisolone, again approximately 2 monthly later, the patient presented to emergency room with quadriplegia, dyspnea and bladder and bowel dysfunction. MRI of spine shows hyperintense lesion in whole cervical and upper thoracic MRI (Figure 1). Plasma exchange was started for patient with total dose 250 mL/kg but in 4 days of admission, she developed respiratory arrest and intubated with mechanical ventilation in ICU and ultimately 2 weeks later expired due to cardiac arrest.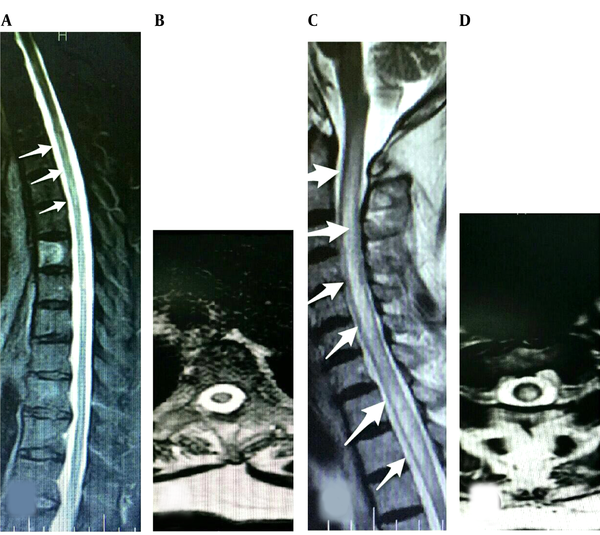 3. Discussion
NMO characterized by involvement of optic nerve and spinal cord [7]. The pathogenesis of NMO is mediated by the humoral immune system in contrast to the cellular mechanism that is proposed for MS, NMO-IgG (anti-AQP4) play a direct role in the pathogenesis of NMO. Aquaporin-4 (AQP4), is a water channel protein highly concentrated in spinal cord gray matter surrounding the central canal, periaqueductal and Virchow-robin space in the periventricular regions, and astrocytic foot processes at the blood-brain barrier [8]. The patient that seropositive for this antibody, are at risk of relapse but in general the recurrence rate in patient with longitudinal extensive transverse myelitis (LETM) is uncertain and continue to be a subject of case reports [9]. Our patient also has the recurrent severe myelitis during 2 months that is unusual. Furthermore, the median age for presentation of NMO is 32 - 42 years, although cases present in older and young population, but the presentation at this age usually uncommon and until this time, our case is the oldest reported case in Iran. The CSF has pleocytosis in 80% - 85% patients of Devic disease although in our case was normal. Another interesting point in our patient is sudden onset of respiratory arrest without evidence of pneumonia or pulmonary embolism that may be due to upper cervical or medullary involvement in the acute phase. The plasma exchange recommended for moderate to severe transverse myelitis and optic neuritis and if refractory to prednisolone and plasma exchange , immunosuppression with cyclophosphamide recommended and due to high risk of recurrence, maintenance therapy with Azathioprine, rituximab, mycophenolate mofetil, methotrexate, prednisone, or mitoxantrone should be considered and at first Azathioprine and prednisone was prescribed that if don't respond to this drug it is necessary to change to other drugs [10]. Recently, many studies suggest that the therapeutic option in NMO should be immunosuppressive rather than immunomodulatory drugs [11]. In study Mok and his colleagues showed that use of cyclophosphamide was successful in halting relapses in a patient with systemic lupus erythematosus-associated NMO who was unresponsive to high-dose oral and intravenous corticosteroids, intravenous immunoglobulin, mycophenolate mofetil, tacrolimus, low-dose daily oral cyclophosphamide and rituximab [12]. Unfortunately our case doesn't respond to treatment and during plasma exchange was expired.
3.1. Conclusion
NMO can cause respiratory failure with involvement of upper cervical spinal cord and brain stem that require rapid diagnosis and aggressive treatment to prevent disease progression, also Devic disease requires Cytotoxic drugs and close follow-up after discharge to prevent relapse which can be debilitating and fatal.
Copyright © 2017, Zahedan Journal of Research in Medical Sciences. This is an open-access article distributed under the terms of the Creative Commons Attribution-NonCommercial 4.0 International License (http://creativecommons.org/licenses/by-nc/4.0/) which permits copy and redistribute the material just in noncommercial usages, provided the original work is properly cited.