Abstract
PI3K/Akt/mTOR would be an important intracellular signal pathway which has found to be over-activated in neoplasia. Here, the combination effect of LY294002 (PI3K inhibitor) and rapamycine (mTOR inhibitor) has evaluated in different human lung cancer cell lines.
MTT assay has used to assess the viability of Calu-6, SK-MES-1 and A549 cancer cells. The levels of biochemical markers of apoptosis (activated caspase-3) and cell proliferation (c-Myc and cyclin D1) have evaluated by immunoblotting.
The data has shown that blockade of PI3K/Akt cascade with LY294002 (0.1-100 µM) resulted in growth inhibition with IC50 ranging from 7 to 35 µM. LY294002 plus rapamycin (10 nM) significantly enhanced the growth inhibition rate and elevated cleaved caspase-3 in A549 and SK-MES-1 cells. Moreover, such combination therapy had a potent decreasing effect on c-Myc and cyclin D1 protein levels.
Taken together, combined inhibition of PI3K/Akt/mTOR signaling has represented a promising treatment strategy for lung cancer but the effectiveness of such combination therapy has been depending on the cancer cell types.
1. Background
Lung cancer has been the leading cause of malignancy-related death (1). Over the past years, lung cancer treatment has based on cytotoxic agents and despite significant progress, survival rates for advanced lung cancer remain low (2). However, DNA-damaging cytotoxic therapies would mainly consider as a treatment of lung cancer management for the near future (3). It has become clear that additional research would be necessary to develop effective therapeutic strategies for individual patients with lung cancer (4). The development of novel therapeutics that specifically target signaling pathways has revolutionized the way to treat patients with lung cancer.
It has documented that class I phosphatidylinositol 3-kinase (PI3K) and its downstream signaling components such as Akt and mTOR have involved in tumor cell proliferation and survival (5, 6). The activated Akt could phosphorylate mammalian target of rapamycin (mTOR), which modulates cell proliferation through the regulation of translation (6). mTOR has finally activated p70 S6 kinase (p70S6K) and eukaryotic initiation factor 4E-binding protein-1 (4E-BP-1) and increased the translation of cyclin D1 and c-Myc (7, 8).
The PI3K-AKT-mTOR pathway was a frequently over-activated pathway between many lung cancer patients (9). The development of targeted therapies against PI3K/AKT/mTOR pathway at multiple levels could be helpful for the treatment of many cancer types. The inhibition of this pathway potentially has suppressed tumor survival and in combination with other anticancer therapies circumvents resistance in cancer cells (10).
LY294002, a morpholine derivative of quercetin, was a reversible and competitive inhibitor of the PI3K which has effective anticancer property (11). Recently, we have reported that the PI3K/Akt pathway inhibition by LY294002 accompanied with chemotherapeutic drugs might have ability to treat various types of cancer (12).
It has reported that rapamycin, inhibitor of the mammalian target of rapamycin complex 1, and its analogues had anti-cancer property against gastrointestinal, breast, pancreatic, head and neck, prostate, renal and other solid tumors (13).
Surprisingly, therapeutic advantage of dual PI3K/mTOR inhibitors has demonstrated in various types of malignancies including lung cancer (14, 15). However, there were several types of lung cancer, such as non-small adenocarcinoma and squamous cell carcinoma, small cell lung cancer and large cell neuroendocrine carcinoma. Ordinarily, the effects of anticancer agents must be evaluated against various lung cancer cell lines to clarify their usefulness in the treatment of lung cancer.
2. Objectives
Therefore, based on a series of evidence in the previous studies, we have decided to evaluate the therapeutic effect of combination of PI3K and mTOR inhibitors against some unexamined types of lung cancer, such as human lung adenocarcinoma, squamous cell carcinoma and adenocarcinoma epithelial cell lines.
3. Methods
3.1. Cell Lines and Cell Culture
Calu-6 (lung adenocarcinoma), SK-MES-1 (lung squamous cell carcinoma) and A549 (lung adenocarcinoma epithelial) human cell lines have purchased from national cell bank of Pasteur institute of Iran (NCBI). Dulbecco's modified eagle medium (DMEM, Biosera, UK) has contained 10% heat-inactivated fetal calf serum and 100 μg/mL streptomycin and 100 U/ml penicillin has used as cell culture medium. The cells have incubated at 37°C in a 5% CO2 humidified atmosphere.
3.2. Viability Assay
The cytotoxic activities of agents have assessed using MTT assay (16). Briefly, the cells have incubated in 96 well plates (SPL Lifesciences Inc., South Korea) at 2500 cells/well and allowed to attach (overnight). For evaluating the IC50 values, specific concentrations of rapamycin (calbiochem) or LY294002 (Sigma-Aldrich, Germany) have added and the cell culture plates have incubated for three days. For determination of the combination effect, 10 µM of rapamycin has added per well prior to treating with different concentration of LY294002. Control cells have cultured in complete medium. After drug incubation, MTT (2.5 mg/mL, Sigma-Aldrich, Germany) has added and the cells have incubated for 1 hours. The medium has then replaced with DMSO (100 μL) and the absorbance has measured by using a microplate reader at 490 nm. Viability fraction has calculated by dividing the absorbance of drug-incubated wells by the absorbance of control un-treated wells × 100.
3.3. Western Blot Analysis
A549, SK-MES-1 and Calu-6 cells have homogenized in lysis buffer (10 mM Tris-HCl (pH 7.4), 1mM EDTA, 0.1% SDS, 0.1% Na-deoxycholate, 1% NP-40, 1 mM phenylmethylsulfonyl fluoride, 2.5 µg/mL of leupeptin, 10 µg/mL of aprotinin and 1mM sodium orthovanadate). The homogenate has centrifuged (14,000 rpm, 15 minutes at 4°C). Supernatant protein concentrations have evaluated (Bradford method) and 40 µg of protein has electrophorised on a 9% SDS-PAGE gel and transferred to nitrocellulose blotting paper (Hybond ECL, GE Healthcare Bio-Sciences Corp. NJ, USA). After overnight blocking (at 4°C) with Tris-buffered saline with Tween 20 (blocking buffer, TBS-T, 150 mM NaCl, 20 mM Tris-HCl, pH 7.5, 0.1% Tween 20 and 5% non-fat dried milk), the membranes have incubated with caspase 3, cyclin D1 and c-Myc antibodies (Cell Signaling Technology, USA, rabbit monoclonal, 1:1000 overnight at 4°C). After washing in blocking buffer (three times, 5 minutes), the papers have incubated for 60 minutes at room temperature with a secondary antibody (horseradish peroxidase-conjugated, 1: 15000, GE Healthcare Bio-Sciences Corp. NJ, USA). The antibodies have diluted in blocking buffer and western blot experiments have performed at least three times. The immunoblot complexes have detected using advance ECL system and exposed to Lumi-Film film (Roch, Germany). The intensity of the blots has determined and analyzed by Labwork analyzing softwares (UVP, UK). The expression of β-actin (antibody from Sigma; 1: 1000) has used as loading control.
3.4. Statistical Analysis
The differences in mean of MTT assay and caspase 3/β-actin band density ratio between experimental groups have compared by one-way ANOVA, followed by the Newman-Keuls test. P < 0.05 has considered significant.
4. Results
4.1. Combined Inhibitory Effect of LY294002 and Rapamycin on A549, SK-MES-1 and Calu-6 Cells Growth
At First, the cytotoxic effects of LY294002 (0.1, 1, 10, 100 µM) have determined on different human lung cancer cell lines. Then, the combined effects of LY294002 with an allosteric inhibitor of mTOR, rapamycin, have evaluated. As shown in Figure 1, LY294002 had a dose-dependent toxic effect in the all tested cell lines.
In A549 cells, LY294002 at doses of 0.1, 1, 10 and 100 µM produced 10, 19, 58 and 72% growth inhibition, respectively. Combination of LY294002 with rapamycin (10 nM) synergistically induced (17, 39, 83 and 86%, respectively) growth inhibition (Figure 1A).
Treatment of SK-MES cells with 0.1, 1, 10 and 100 µM of LY294002 has resulted in 10, 17, 52 and 61% growth inhibition, respectively. In cells that had LY294002 plus 10 nM rapamycin the inhibition values were 12, 28, 76 and 83% (Figure 1B).
In Calu-6 cell line, rapamycin could not significantly enhance the effects of 0.1, 1 and 100 µM of LY294002 (Figure 1C). Since the synergic effects of LY294002 and rapamycin have not observed, the Calu-6 cell line has excluded from molecular study.

4.2. Combined Inhibitory Effect of LY294002 and Rapamycin on Caspase 3 Activity in A549 and SK-MES-1 Cell Lines
To evaluate the pro-apoptotic effect of LY294002 and rapamycin combined treatment, we have analyzed activated caspase 3. The cells have treated with LY294002 and rapamycin or their combination for 48 hours. The levels of cleaved caspase 3 have significantly increased in combined drugs treated A549 (Figure 2A) and SK-MEL-3 (Figure 2B) cells in comparison with each drug each drug alone (P < 0.05).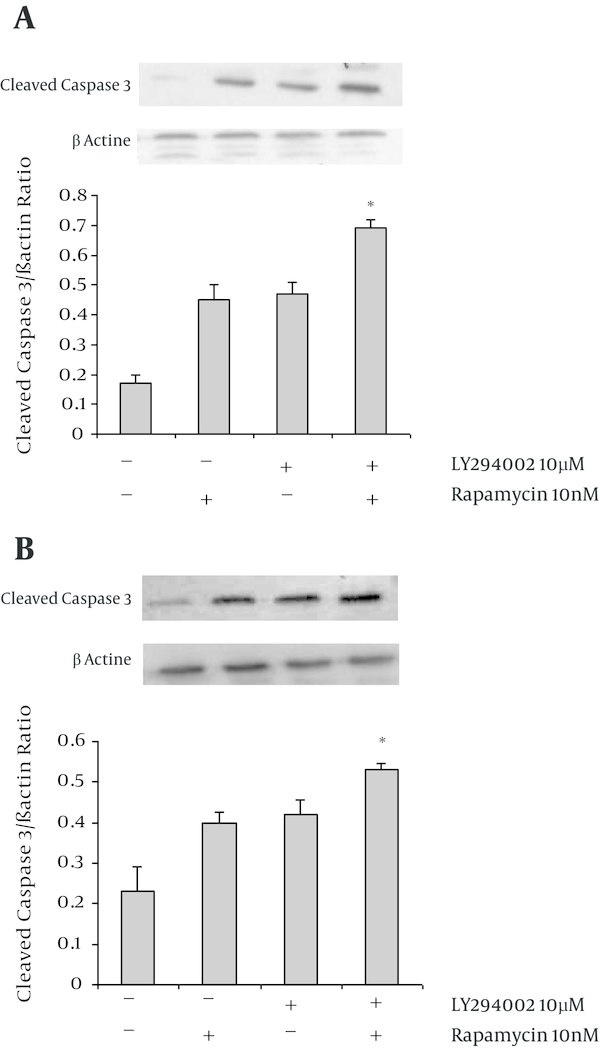 4.3. The inhibitory effect of LY294002 and rapamycin alone or in combination on c-Myc and cyclin D1 proteins
The data has shown that 48 hours exposure of A549 cells to either rapamycin (10 nM), LY294002 (10 µM) or rapamycin + LY294002 decreased cyclin D1 protein density by approximately 30, 40 and 80% of control, respectively (Figure 3A). Similarly, c-Myc protein was down-regulated in A549 cells that had rapamycin (60%) or LY294002 (40%) (Figure 3B). Combination therapy has induced a greater down-regulating effect (70% of control) than those observed in drug alone treated groups (Figure 3B).
Exposure of SK-MES-1 cells to rapamycin; LY294002 or rapamycin + LY294002 markedly have decreased the expression of cyclin D1 protein by approximately 60, 50 and 80%, respectively (Figure 3C). Furthermore, c-Myc protein levels have significantly reduced to approximately 60% of control in combined treated SK-MES-1 cells. c-Myc protein levels were close to 20 and 50% of control in rapamycin and LY294002 treated SK-MES-1 cells, respectively (Figure 3D).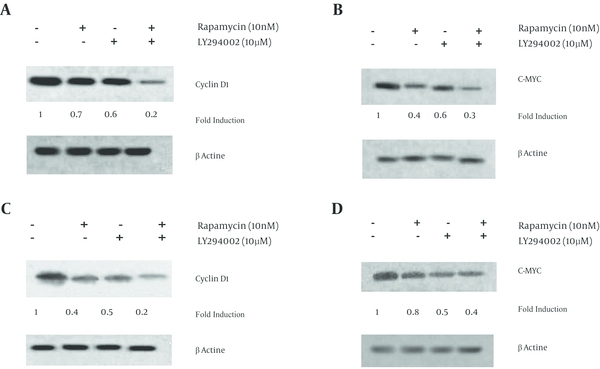 5. Discussion
The PI3K pathway was an over-activated growth signaling pathway in human cancer especially in lung carcinoma (17-19). It has suggested the PI3K pathway inhibitors could use as the most recent drug targets in oncology (20).
This study has performed to investigate the effect of the LY294002 and rapamycin in combination on lung cancer cell growth and apoptosis. Our results have shown that the mentioned combinations (LY294002 plus rapamycin) co-operate to give effective inhibition of proliferation in lung carcinoma cell linens. Similar to our data, Breslin and colleagues (21) have shown the growth inhibitory property of such combination in Leukemia T-cells. However, in consistent with their study, our results have indicated that combination of LY294002 and rapamycin could induce a stronger inhibitory effect on cell proliferation and promote apoptosis.
Although we have used three different lung cancer cell lines, the mentioned combination therapy had not equal effects on the cells proliferation, so that a significant cytotoxic effect has not observed in Calu-6 cell line. This difference could be due, at least in part, to different genetic backgrounds of the cell lines.
Werzowa et al. (22) has reported that the combined treatment of LY294002 and rapamycin elicits significant inhibitory effects on melanoma (Mel-Juso and 518A2) cell lines viability. Such combinational therapy has caused a significant increase in cell cycle arrest and apoptosis in Mel-Juso cells. Furthermore, they have observed an increase in 518A2 cells apoptosis after combination treatment (22).
In addition, it has reported that LY294002 plus rapamycin produced a potent synergic effect in renal cancer cell lines. This group of investigator has used rapamycin in the range of 20 - 500 nM which was greater than that in our study (23).
Aziz et al. (24) has shown dual inhibitor of PI3K/mTOR has beneficial property for treating melanoma. In addition, they have found a synergism at a concentration of 5 μmol/L LY294002 with 1, 100 and 1000 nmol/L of rapamycin in patient-derived melanoma cell lines.
Thus, in accordance with previous publications, rapamycin has seemed to exert its effects depending on the type of cancer cell lines and its dosage.
In our study, exposure of A549 and Sk-MES-1 cells to the mentioned combination therapy has caused a significant down-regulation of cell cycle-regulating proteins expression, cyclin D1 and c-Myc. This could explain the observed growth inhibition and caspase-3 activation mediated by such combination.
The data indeed have shown that combination of LY294002 and rapamycin exhibits enhanced inhibitory effects on the proliferation of human lung cancer cells. From a clinical point of view, our data have suggested a hopeful strategy to treat mTOR-activated lung cancers through the combination therapy of mTOR and PI3K/Akt inhibitors. However, our results have needed to be validated in tumor series as well as in more cancer cell lines.
Taken together, we have found that the inhibition of PI3K/Akt/mTOR signaling by inhibitors of PI3K and mTOR suppressed proliferation and promotes apoptosis in lung cancer cell lines. Of note, a profound growth inhibition and apoptosis has induced when both compounds have combined. However, further studies have needed to evaluate the exact molecular mechanism(s) underlying such combination therapy in lung cancer.
Copyright © 2016, Iranian Journal of Cancer Prevention. This is an open-access article distributed under the terms of the Creative Commons Attribution-NonCommercial 4.0 International License (http://creativecommons.org/licenses/by-nc/4.0/) which permits copy and redistribute the material just in noncommercial usages, provided the original work is properly cited.