Abstract
Background:
SARS-CoV-2 as a member of Coronavirus family, caused a global pandemic in late 2019 and raised concerns about its morbidity and mortality among immune-deficient individuals. Till now, several pediatric cases infected with SARS-CoV-2 have been reported, and some have noted susceptibility to infection in infants and young children, especially those with congenital comorbidities. In this report, we discuss the clinical course, administered treatments, and outcomes of SARS-COV-2 infection in an infant suffering from cardiovascular comorbidity.
Case Presentation:
We describe a newborn referred to hospital 72 hours postpartum, diagnosed with pulmonary atresia with ventricular septal defect (PA-VSD), and subsequently found to be infected with the SARS-COV-2 virus. The patient presented with tachypnea, lethargy, and a history of recent fever and myalgia in his father. He received intravenous fluid and antibiotic therapy based on an established protocol for COVID-19 treatment by Iran health ministry and was discharged after five days of hospitalization without further complications. Two weeks after discharge, he was referred to the cardiac surgery department for surgical treatment after obtaining a negative result for nasopharyngeal sample SARS-CoV-2 RT-PCR.
Conclusions:
Mild symptoms and no need for excessive oxygen supports in the current case demonstrate pediatrics patients with COVID-19 have a better prognosis and fewer complications compared with adults, even at early childhood and with the presence of serious cardiac complications.
1. Background
In late 2019, a respiratory infection caused by novel-coronavirus 2019 (COVID-19) emerged in China and led to a global pandemic. Afterward, several pediatric cases have been reported, and some have noted susceptibility to infection in young children, especially infants (1). Common symptoms of SARS-COV-2 infection include dry cough, respiratory distress, fever, myalgia, and gastrointestinal manifestations such as diarrhea. Reported pediatric cases mostly presented with mild symptoms and required intensive care and respiratory support less frequently compared with adults (2). However, more studies are mandatory for a decisive understanding of the clinical course and outcomes of SARS-COV-2 infection in pediatric patients, particularly newborns.
Here, we report a case of SARS-COV-2 infection in a 3-days-old infant with Pulmonary Atresia with Ventricular Septal Defect (PA-VSD) who was presented to a tertiary referral hospital with tachypnea.
2. Case Presentation
The patient was a boy, born at 37 weeks of gestation. He presented with tachypnea 72 hours after birth and was hospitalized for further investigations. Physical examination on admission revealed a lethargic newborn. He was tachypneic (respiratory rate of 46 breaths/minute), but the rest of the vital signs were within the normal range. The patient's oxygen saturation -measured with pulse oximetry- was 98%. He underwent cardiac echocardiography, which showed evidence of PA-VSD.
Pediatric cardiovascular surgery department scheduled the patient for heart surgery. However, during preoperative preparations, the patient was diagnosed with COVID-19. Surgery was canceled due to the positive SARS-COV-2 RT-PCR test, and the patient was admitted to the infectious diseases ward. Supportive care and antibiotics (based on an approved protocol of COVID-19 management published by Iran health ministry at the time) were initiated after obtaining blood and urine samples for bacterial cultures.
The patient's mother had no symptoms of any infection before and during labor. However, his father mentioned a history of fever and lethargy in the last few days without a definitive diagnosis of SARS-COV-2 infection.
The respiratory examination was unremarkable, and the chest X-ray radiography showed no definitive signs of pneumonia (Figure 1). Routine laboratory tests were obtained, and the results are listed in Table 1. Blood and urine culture results were negative. Venous blood gas (VBG) analysis demonstrated a pH of 7.36 and oxygen partial pressure (PO2) of 46.8 mmHg, and carbon dioxide (PCO2) of 26.3 mmHg.
Chest X-ray graph of the patient. It has no radiological findings suggestive of pneumonia.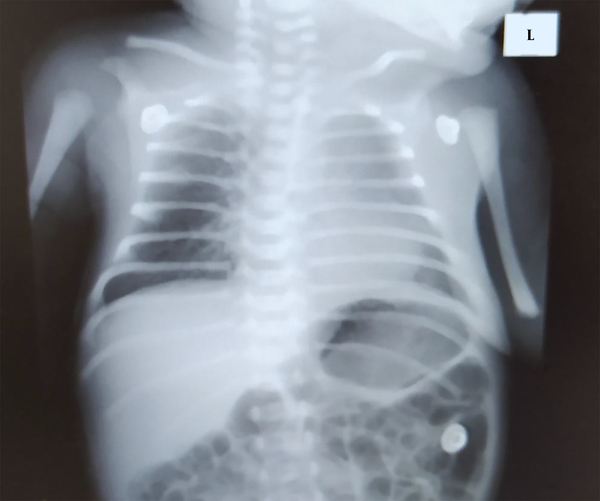 | Laboratory Parameters | Result |
| --- | --- |
| White blood cells (× 103/μL) | 9.63 |
| Neutrophils (%) | 57.3 |
| Lymphocytes (%) | 30 |
| Hemoglobin (g/dL) | 17.3 |
| Platelets (× 103/μL) | 301 |
| Urine analysis | Negative |
| Urine culture | Negative |
| Blood culture | Negative |
| C-reactive protein (mg/L) | 1 |
His clinical status was monitored closely every day, and there was no record of fever, cough, gastrointestinal symptoms, or hemodynamic instability in the patient during hospitalization. He merely developed mild respiratory distress and tachypnea that required no additional respiratory support and was supposed to be related to the aforementioned congenital heart disease.
The patient was discharged on the 5th day of admission without complications. He did not show any signs of pneumonia during hospitalization and was in no need for excessive ventilation or oxygen support. Two weeks after discharge, a nasopharyngeal swab test for SARS-COV-2 RT-PCR was repeated and reported negative, and he was referred to a cardiovascular surgeon to reschedule his surgery.
3. Discussion
Here, we described a confirmed SARS-COV-2 infection in a 3-day-old full-term male with congenital heart disease (PA-VSD) who was hospitalized due to tachypnea.
The possibility of vertical transmission of SARS-CoV-2 has been mentioned previously in some newborn case reports (3). However, the absence of symptoms or definite SARS-COV-2 diagnosis in mother, and a history of recent fever and myalgia in father raises the possibility that the disease was transmitted from father to the infant through close contacts after birth.
In a recent report, less than 1% of all SARS-COV-2 cases were younger than ten years old (2), about 16% of them did not have any respiratory symptoms or radiologic changes suggestive of pneumonia, and most cases, which required intensive care and respiratory support had preexisting comorbidities (4). Some case reports of neonatal SARS-COV-2 infection demonstrated that it could potentially present as respiratory failure in neonates (5). However, progression to pneumonia requires oxygen supply, and intensive care support that occurs in most severe cases of adults was not seen in this patient despite the underlying cardiovascular disease.
3.1. Conclusions
More data is needed to reach a comprehensive understanding of clinical features and outcomes of SARS-COV-2 infection among younger children. In this report, we described a 3-day-old newborn with congenital heart disease and SARS-CoV-2 infection without any serious complications of COVID-19. Based on available reports, contrary to adults, pediatric cases mostly present with a spectrum of asymptomatic to mild symptoms, even for patients with critical comorbidities, namely congenital heart diseases.
Copyright
Copyright © 2021, International Journal of Infection. This is an open-access article distributed under the terms of the Creative Commons Attribution-NonCommercial 4.0 International License (http://creativecommons.org/licenses/by-nc/4.0/) which permits copy and redistribute the material just in noncommercial usages, provided the original work is properly cited.