Abstract
Introduction:
Circumcision is the most common surgery in male infants in Islamic countries. Therefore, knowledge of its side effects and appropriate therapies is essential.
Case Presentation:
In this case report, we describe a 12-day neonate with glans ischemia, two days after circumcision. We admitted the neonate and treated him with oral pentoxifylline and antibiotic for three days.
Conclusions:
Thus, pentoxifylline can be implemented as a treatment in post-circumcision ischemia of the glans penis in neonates.
Keywords
1. Introduction
Circumcision is the most common surgery in male infants in Islamic countries. It has rare complications (1.5 - 5%) (1, 2) due to local anesthetic drug injection or technical errors (3). Glans ischemia is an infrequent complication after circumcision, leading to losing a part of the penis (4). Accelerating blood supply and oxygenation help to improve timely and reduce subsequent complications. This complication is followed by compressing the wound dress, local anesthesia that leads to a dorsal nerve block, and malpractice in using rings (5). This article describes a neonate with penile ischemia after circumcision who was treated with oral pentoxifylline. We recommend pentoxifylline as an option for the treatment of neonatal penile ischemia.
2. Case Presentation
A 12-day old male neonate with a gestational age of 39 weeks and weight of 3200g delivered vaginally was admitted due to penile ischemia after circumcision. He had been admitted to another hospital first and received antibiotics. Two days after admittance, the patient was discharged from the hospital with parental consent due to no clinical improvement. The parents brought the neonate to the emergency room of the children's medical center hospital of Tehran University in 2019. The baby was healthy before circumcision. When the neonate was seven days old, they circumcised the neonate with a ring. The procedure was performed in a private office, and they utilized local anesthesia (0.1% lidocaine). Two days after circumcision, the neonate's penis turned black. Ischemia started from the glans and extended to the middle shaft of the penis. Gradually, the glans had a completely necrotic appearance with some yellow discharges from the right lateral side. The urine flew out from two foramina, the mea, and the glans' right proximal side (Figure 1). Other physical examinations and lab data were normal.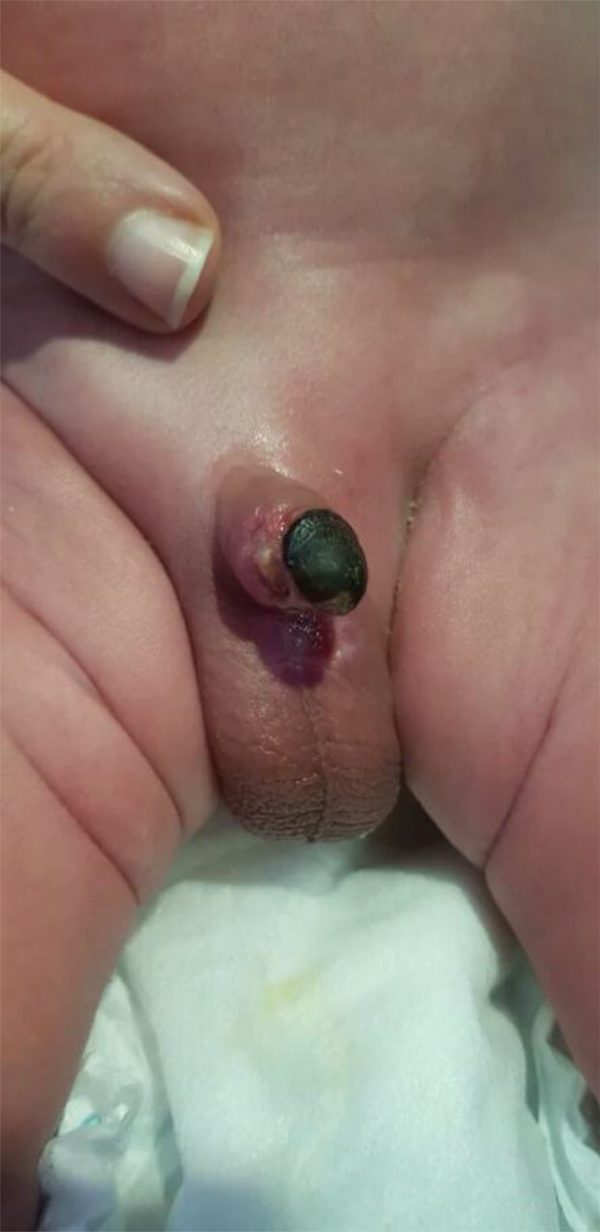 We prescribed antibiotics (oxacillin and amikacin) and mupirocin ointment. We started a pentoxifylline tablet based on available articles for post- circumcision ischemia of the penis in children and adult patients (1, 3). Pentoxifylline is applied in neonatal sepsis and necrotizing enterocolitis. The next problem was the dosage of drugs because only the oral form of pentoxifylline is available in Iran. We started pentoxifylline tablet (10 mg/kg /day; Farabi Co. Iran) for 5 days for this neonate after parental consent (3). After three days of taking pentoxifylline and antibiotics, the glans' ischemic skin was removed, and penile appearance was healthy, but the glans still had two urinary foramina (Figure 2). The patient was discharged after four days and followed by the urologist for extra urine foramen. We continued treatment with pentoxifylline for five days and antibiotics for seven days. The extra foramen decreased, and the penile had a good condition after a three-month follow-up.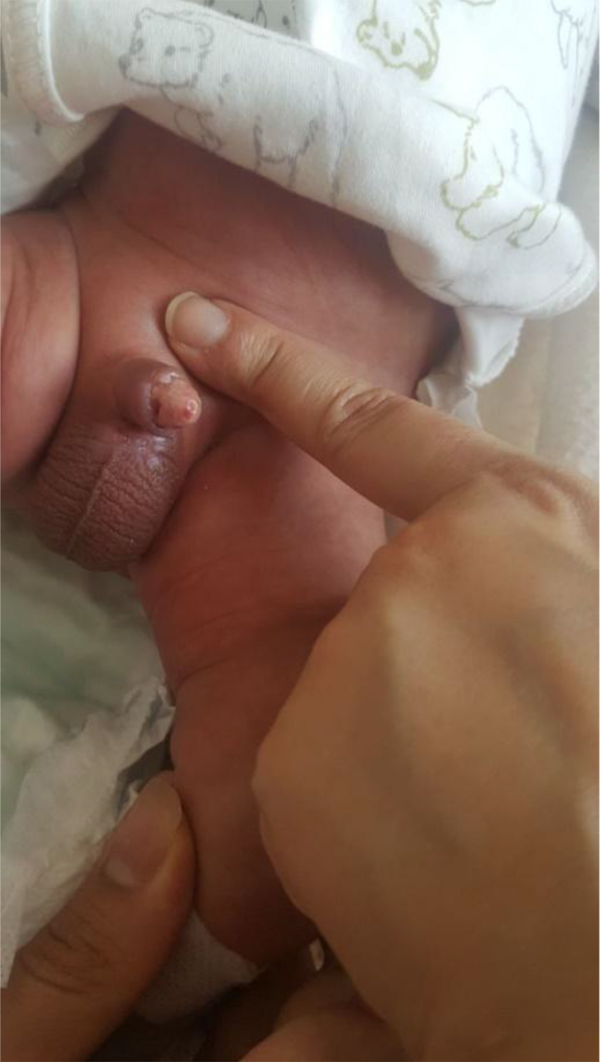 3. Discussion
Pentoxifylline is a methylxanthine with a non-steroidal immunomodulating effect with many applications. It can improve tissue perfusion and decrease blood viscosity, and affects platelets and other coagulator factors (6); thus, it is used for intermittent claudication disease (7). It is also used for penile ischemia after circumcision (1, 3) in children and adults (2, 4). Pentoxifylline is also applied for neonatal diseases, such as sepsis (8), necrotizing enterocolitis, and bronchopulmonary dysplasia because it decreases inflammation and tissue injury (9). On the other hand, it has rare complications even in preterm neonates (10). By reviewing this information, we used this drug to treat penile necrosis in the neonate. Glans ischemia in this neonate did not improve following two days of antibiotic therapy, but after three days of utilizing pentoxifylline, the necrotic skin of the glans healed, and the appearance of the penis changed to normal. The importance of this study was to prevent further complications, such as penile curvature, trapped penis, poor body image, fear of suitable sex relationship, anxiety, and depression (11). Drug therapy reduces severe complications and relieves parents' anxiety.
3.1. Limitations of Our Study
As ischemia of glans is sporadically a rare case, we recommend designing a trial study to assess pentoxifylline's effectiveness.
With this Knowledge and due to the drug's rare side effects, we recommend that the drug be administered in neonatal cases to accelerate treatment to reduce irreversible complications.
Copyright © 2021, Author(s). This is an open-access article distributed under the terms of the Creative Commons Attribution-NonCommercial 4.0 International License (http://creativecommons.org/licenses/by-nc/4.0/) which permits copy and redistribute the material just in noncommercial usages, provided the original work is properly cited.