Dear editor,
Intertrigo is a superficial inflammatory skin condition of the flexural surfaces of the skin, which is prompted by warm temperatures, friction, moisture, maceration, and poor ventilation (1). Intertrigo provides a fertile breeding ground for various microorganisms and secondary infections, and it is commonly infected with Candida (yeast) along with bacteria (Staphylococcus, Streptococcus, Pseudomonas, and Proteus), as well as other fungi and viruses in some cases (2). It is a recurrent chronic condition in housewives and water workers. It is often resistant or partially responsive to topical treatment (3). Sodium hypochlorite (NaOCl) is a broad-spectrum antiseptic (anti-infective) agent commonly used for cleaning and disinfection of clinics and hospitals in the COVID-19 era. Sodium hypochlorite which releases oxygen and chlorine on dilution, acts by alterations in cellular metabolism, phospholipid destruction, irreversible enzymatic inactivation in microorganisms, and lipid and fatty acid degradation (4). This solution decolonizes multiple healthcare-associated pathogens including bacteria (Gram-positive, Gram-negative, and anaerobic bacteria), fungi (yeasts, molds, and dermatophytes) and viruses, except for spores and prions of the nose, oral cavity, and skin (5). Sodium hypochlorite has been used in different concentrations for root canal infection of teeth in Endodontics, atopic dermatitis (associated with Staphylococcus aureus), and multi-drug resistant Gram-negative bacterial infection. Here, this solution (0.1%) is advised for treating chronic resistant finger webs (of hands) intertrigo , which is resistant and/or partially responsive to topical ketoconazole and mupirocin.
Three patients clinically diagnosed with resistant finger web (of hands) intertrigo were included (without bacteriological and mycological investigation) in this preliminary report to make its treatment fast and cost-effective (Figure 1A). A sodium hypochlorite (NaOCl 10%) stock solution was diluted to get 0.1% concentration before use. To get 0.1% solution of NaOCl, 1 mL of its stock solution (10%) was mixed with 99 mL of tap water. This solution (NaOCl 0.1%) was applied topically thrice a day for two weeks (Figure 1B). During application, this solution would not spill over the colored clothes, as it might bleach the color. The patients were allowed to do routine work with general precaution. The patients were followed up weekly for six weeks. The intertrigo lesions resolved clinically within two weeks. During the follow-up, the recurrence of the lesion was not noticed. Thus, the sodium hypochlorite solution is a cost-effective and simple solution for treating resistant intertrigo of the finger web. This NaOCl solution can be a good option for treating intertrigo of the toe, chronic infected dermatitis, chronic skin and wound infections, chronic paronychia, chronic balanoposthitis and major flexural creases of the body. This is a preliminary report, and a large-scale study should be done to see the effectiveness of this solution in the treatment of chronic and resistant intertrigo and chronic skin infections.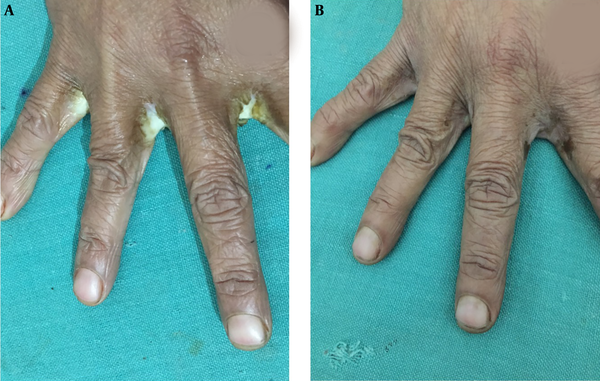 Copyright © 2021, Modern Care Journal. This is an open-access article distributed under the terms of the Creative Commons Attribution-NonCommercial 4.0 International License (http://creativecommons.org/licenses/by-nc/4.0/) which permits copy and redistribute the material just in noncommercial usages, provided the original work is properly cited.