"NeoScriber by Brieflands is a flexible journal management system enhancing workflow efficiency for publications since 2010, offering tailored features and support."
Table of Contents:
---
---
NeoScriber: What does it mean?
NeoScriber (means: New Writer) is one of the leading products of Brieflands as a journal management system.
History:
NeoScriber provides journals with a high level of flexibility to configure workflows. Designed to integrate easily with online publishing services, NeoScriber lowers administrative costs and reduces time from submission to publication. Since 2010, NeoScriber has provided small and medium journals with various options for getting online. Together this community has evolved to increase productivity and improve the workflow in the peer-review process. One of the brilliant features of NeoScriber is our hands-on, personalized service that allows you to set your parameters on what works for your organization. We do all we can to make your editorial team happy.
Main Features:
NeoScriber provides the technology infrastructure and platform that allows publishers to choose the site design, branding, feature set, business models, and content support they want for their publications. All content is hosted on Brieflands servers, using the NeoScriber Express production system.
Increase efficiency of publishing staff
Offer reviewers fast and easy access
Give Editors hands-on control
Streamline Author submissions
---
Sub-Systems of NeoScriber:
This portal consists of different facilities and tools that simplify managing an academic journal. NeoScriber, as one of the first journal management systems, consists of 3 sub-portals:
Article Submission System
Peer Review System
Advanced and Integrated Publishing System
---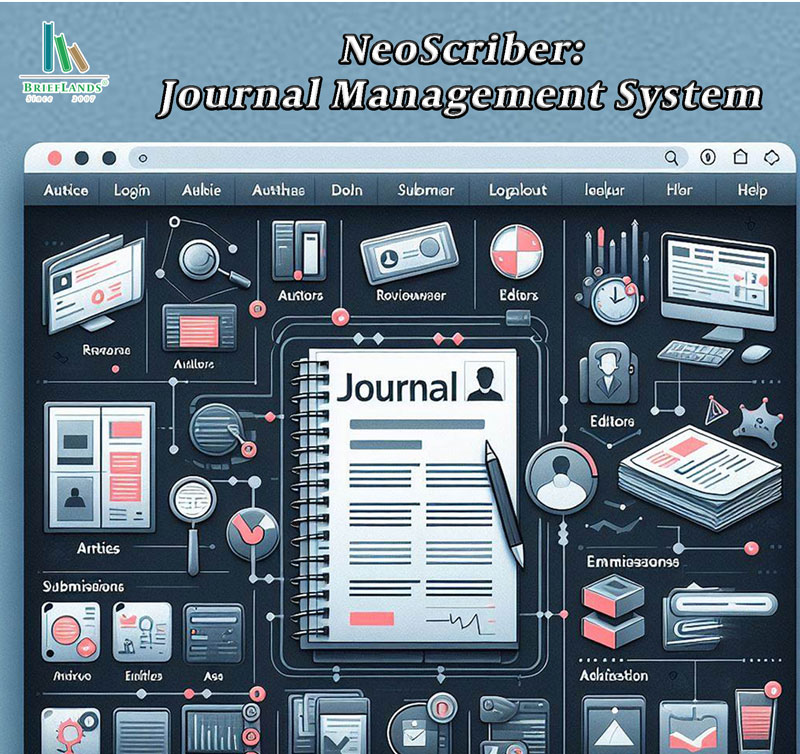 ---
Features of NeoScriber
The main features of NeoScriber are as below:
Flexible and Pre-planned Online Submission based on Article Types
Manuscript and Users Management System
Advanced Search and Report Tools
Mega-Publish Area for simultaneous HTML and PDf full-text publishing and editing using XML in one place
NeoSuggestion: A unique portal for recycling all articles
NeoConnect: A special tool for searching and inviting Reviewers and Editorial Board based on researchers' profiles indexed in ISI, Medline, and Scopus
DOI enabled publications with Crossmark Linking
Similarity checking powered by iThenticate
Automated XML outputs based on PMC XML DTD version 3.0, Crossref XML, Portico XML, ISC XML, HBI XML, RSS output, and many other libraries
Connected facilities for Social Media for sharing articles on Twitter, Facebook, Mendeley, etc.
Google Scholar meta Tags and sitemap enabled for all Articles
Open Access Enabled in all Articles
Fully Integrated Peer Review System (Double or Single Blind)
Open Peer Review Infrastructure: Signed or Anonymous reviewers
Publons Enabled Journals
ORCID Enabled System
Altmetrics Enabled System
Online Chat for Users
Support Ticketing System
---
Peer Review Portal in NeoScriber
Features of the NeoScriber Peer-Review System:
Paperless and green office a journal with all functions of an editorial office available for Editor-in-Chief, Associate Editors, Reviewers, and Authors
Automated and manual email and SMS notifications and reminders
Single or Double-blind peer review system
Post-Publication peer review system
Customize workflow for all types of relationships between editors and reviewers
NeoConnect: Search and invite new editorial board and reviewers from researchers' profiles in ISI, Medline, and Scopus
Manage publishing of manuscript from early submission to end of proof publishing
Service cloud with unlimited disk space for a journal
---
Features of Publish Site of Journal in NeoScriber
Full-Text HTML Publishing with hyperlinks to figures, tables, and references
References hyperlinked and validated with DOI and PMC
Cited by with Scopus, Scholar, and Crossref
Export citations to Endnote, Bibtex
Get Permission from Copyright (CC BY NC 4)
Crossmark Enabled for Related articles
Link to Related Articles in Scholar and PubMed
Show Authors profile in Scholar, PMC
Create Citation Alert per article
Share Articles in Social Media
Post-Publication Comments
Post-publication Services:
Automated Production of all outputs required for bibliographic sources like ISI, Medline, DOAJ, ISC Portico, etc.
In Press Publishing System for better visibility and higher citations
Post Publication Peer Review Portal for all Articles
What's New in each version of NeoScriber?
Version 6.2 (01-12-2023):
Implement Redmine Logger
Improvement in exception handling
Splitting some modules from the journal module
Make online support configurable
Update TeX file generation according to TeX 2020
Bug fixes
Version 6.1 (01-10-2023):
Handle hotfixes
Movement of a build module
Screening API
Home page development
Refactoring add/edit journal
Documentations
Bug fixes
Version 5.25 (01-10-2022)
Implement profile in neoscriber for all journals
Improvement in SEO
Improvement in Issue Publication Date
Add search box to brieflands.com (link to repository)
Bug fixes
Version 3.46 (09-03-2020):
Improvement in SEO tags of Scholar
Improvement in UX of "Manuscript information," "Screening Log."
Add limitation for "Incomplete Submissions" of authors
Add "Keyword Cloud" to show the most used keywords in the journal
Some Improvements in NeoConnect
Add a feature to search articles by keyword
Integration of journal publish domains
Version 3.44 (08-01-2020):
The "Main Corresponding Author" role is removed from the system since it was confusing for the authors
Corresponding authors can reuse specific files of previous revisions in the new revision
The archive page has been changed, and it is listed according to volumes, not the year of publication
Some significant improvements in SEO
Some improvements in mobile view
Some other minor and major bug fixes and improvements
Version 3.43 (15-12-2019):
Improvement of searching in published site results
NeoSuggest: A service that allows rejected manuscripts to be transferred to another Brieflands journal
Improvements in OPR (Open Peer Review)
Improvements in SEO (Search Engine Optimization)
Some bugs are fixed
Version 3.42 (01-12-2019):
NeoConnect: EIC and AE can add reviewers from the Pubmed database
EIC and AE can add reviewers from all our journals
Search in publish sites can include all articles in our journals
Fixed a bug that authors were not able to download similar files
Some new Google Scholar meta tags were added to article pages
Some modifications for SEO